AP® Products
and Resources
Barron's is your go-to for comprehensive AP resources. Here you'll find everything you need to support your lesson plans and your students. 
Introducing Barron's Online
A digital AP product for the classroom.
We are thrilled to be coming to your classroom with a new digital product for the 2023-2024 school year.
We've designed this product with teachers in mind–and for the same cost as a test prep guide! Check out some of the features below.
Also available are special discounted bundles if your school purchases this product with Barron's Premium AP books.
Click above for more information or to Sign Up for a 7-DAY FREE TRIAL, available for a limited time.
Barron's Online is launching with AP Psychology and AP Biology:
Support student learning with targeted prep and practice
Save lesson-planning time with actionable data based on student mastery of topics
Send feedback directly to students via written, video, or voice message 
Assign content review and AP-style practice aligned with the latest CED
Simulate test day with two printable, full-length practice tests
This product is fully accessible for all users.
The Dynamic Prep Duo
Kaplan AP Review Courses with Barron's Premium Content
Take AP prep to the next level with Kaplan's AP Review courses: eight 2-hour online sessions with an AP expert for your class. Each AP course is built using Barron's tried-and-true AP content, and each lesson covers one month's worth of review—providing your students with extra support leading up to exam day.
Learn More
Coming Soon
Barron's has partnered with Brainfuse, one of the nation's leading online tutoring providers. 
Our Premium AP content will be delivered through Brainfuse live online tutoring services for schools and libraries.
Contact info@brainfuse.com for more information.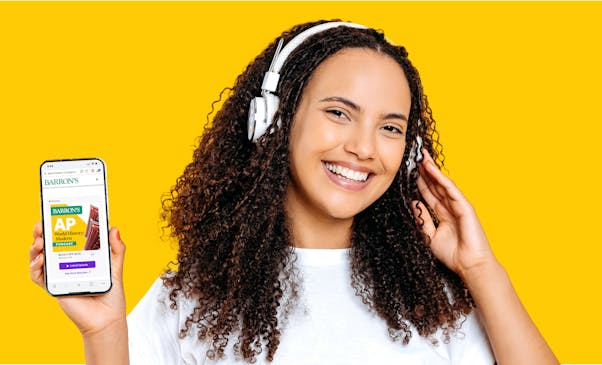 AP Podcasts
Help your students learn on-the-go with Barron's free AP U.S. History and AP World History: Modern Podcasts. They can be used by students studying independently or by teachers looking to integrate podcasts into their curriculum. 
Available on Apple Podcast, Audible, Google Podcasts, Spotify, and Stitcher.
Listen Now
AP Quiz Collection on Kahoot!
Barron's quizzes feature unique content written by AP experts and are a great supplement to use along with Barron's AP Premium guides.
Check Out Our Full Collection
AP® is a registered trademark of the College Board, which is not affiliated with Barron's and was not involved in the production of, and does not endorse, this product.